More info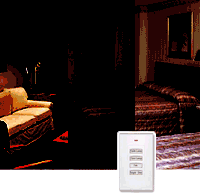 The slimline wireless wall switch SS13 lets you control three modules from any where in your home.
Ideal solution in situations where an extra switch is desired, without running extra wires. Can be attached to walls, glass, doors, tables etc.
Easily attach the SS13 to the wall, keep one near your bedside, place one near your entrance.
Use the SS13 with the CM15Pro computer interface to provide "virtual wiring" (macros).
The SS13 works with any X10 RF Receiver like the Transceiver Module TM12 or W800RFAE Receiver, the CM15Pro computer interface or the Base console of your X10 security system (e.g. SC2800 security console).
It lets you turn ON and OFF three individually coded X10 Modules and brighten and dim lights connected to Lamp Modules and Wall Switches.
In the default state (after first fitting the battery) the SS13 is set to Housecode A.
The top three ON-OFF rocker keys control modules set to Unit Codes 1, 2, 3.
The bottom rocker key brightens and dims lights connected to Lamp Modules and Wall Switches.
You can change the Housecode and Unit Code by following the procedure included with the SS13.